What is 3D Spinal Decompression Therapy? What is the difference?
Although spinal decompression is rather a new technology there are many different machines out there.  Spinal decompression tables or machines all work on the same principle of computerized traction and positioning.  Many tables or clinics advertise about how they can target a specific level such as L5.  So if your MRI shows a disc problem at L5 the machine is designed to pull at L5 only.  Without x-ray or using MRI while you are on table no one can really be sure that the traction is taking place at a specific level.  Such statements are false and are used only as marketing technique.  At Simply Align Rehab we are looking for "the sweet spot".  This is the position that computerized traction takes place with the patient being in the most comfortable position.   Our table is able to bend in three dimensions, up and down, side to side and rotate clock and counterclockwise.  This allows eight different positions to be applied in the lumbar spine while the patient is lying down.  If you count the patient lying on back or stomach also now you have sixteen possible variation of the pull vector.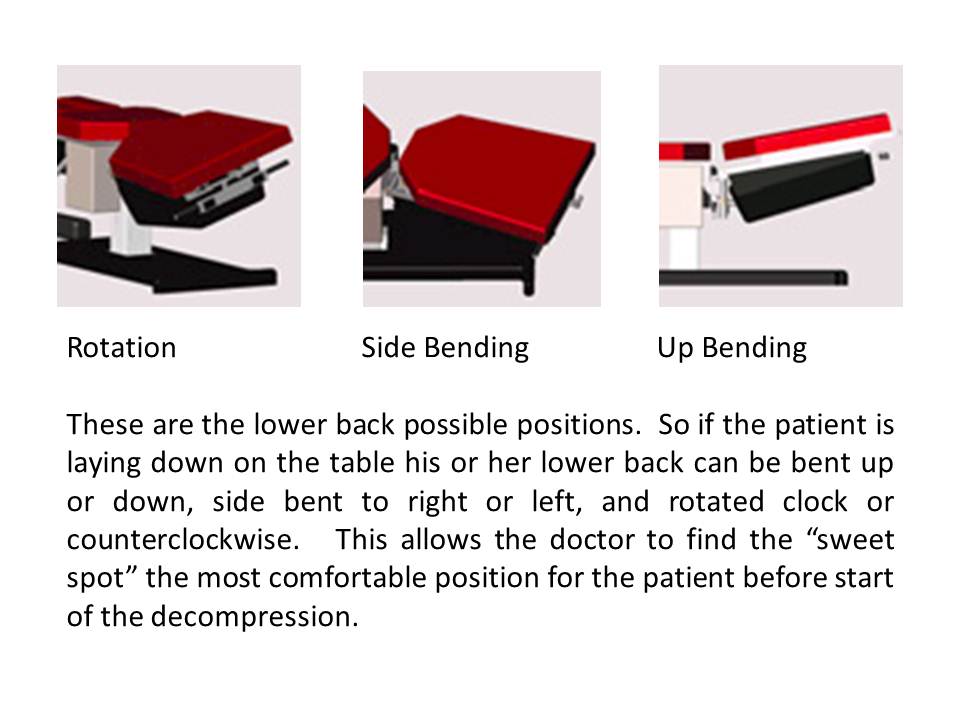 Once the most comfortable position is established, the doctor can now determine the amount of decompression in pounds and the pattern of decompression.  The Spinal Decompression machine is made of different components.  One of the interesting features that our machine has that is not found in many other such tables is the existence of two complete separate computerized motors; one for the lower back and one for the neck.   This is unique future eliminating the use of ropes or other pulley apparatus seen in other machines.   There are different sensors in the machine sensing position and amount of decompression at real time.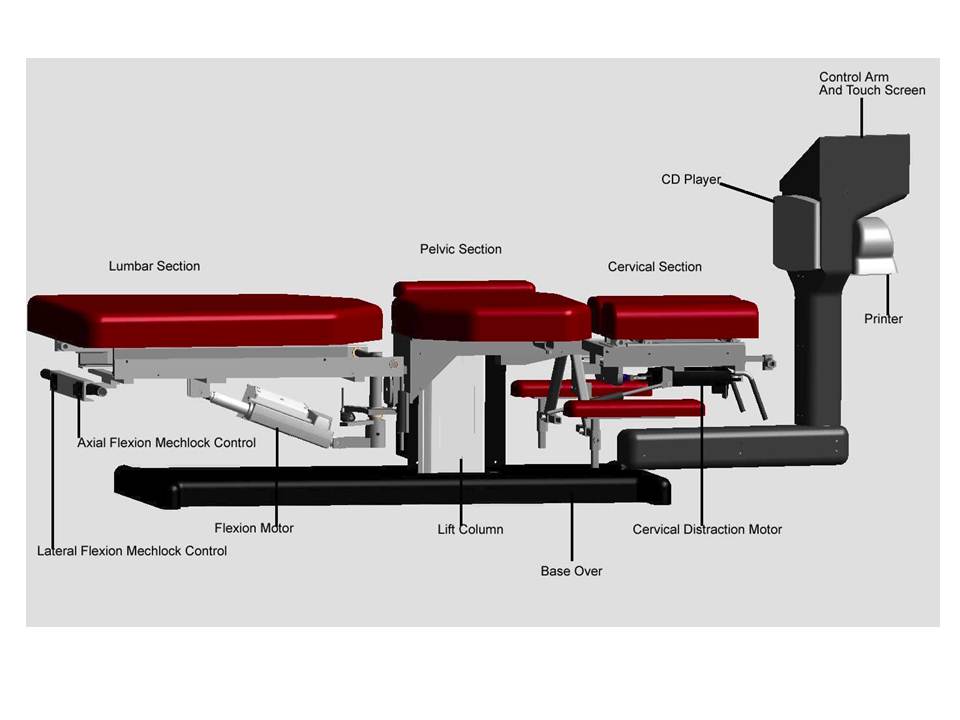 Our Spinal Decompression machine at Simply Align Rehab has six different protocols.  More graduate spinal decompression pulls are recommended at the beginning and later stronger pulls are applied.  Stronger pull does not mean better always.  It is interesting to note that some of my patients once they improve about 80% always want stronger pulls.  I have to always remind them that their discs are healing and we need to stay on the same treatment regimen.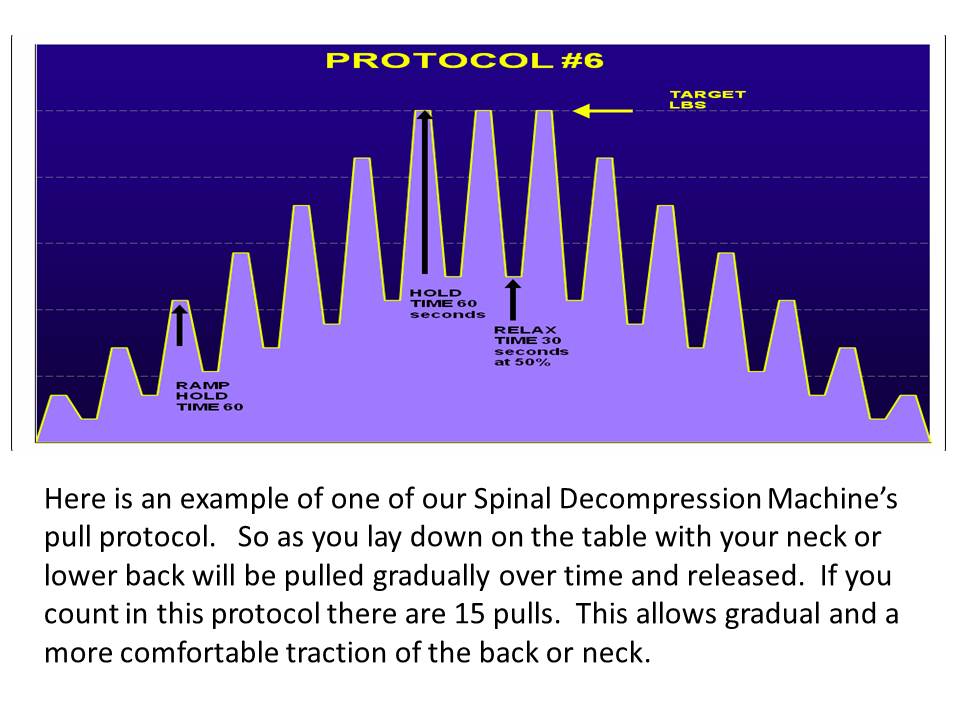 Programing and targeting is done once again by the machines computer eliminating manual errors.  In the ideal world once an average size patient lays down and for example the L5 level is selected the machine will bend to target that level.  But as explained before that may or may not happen and at Simply Align Rehab we are looking for the "sweet spot".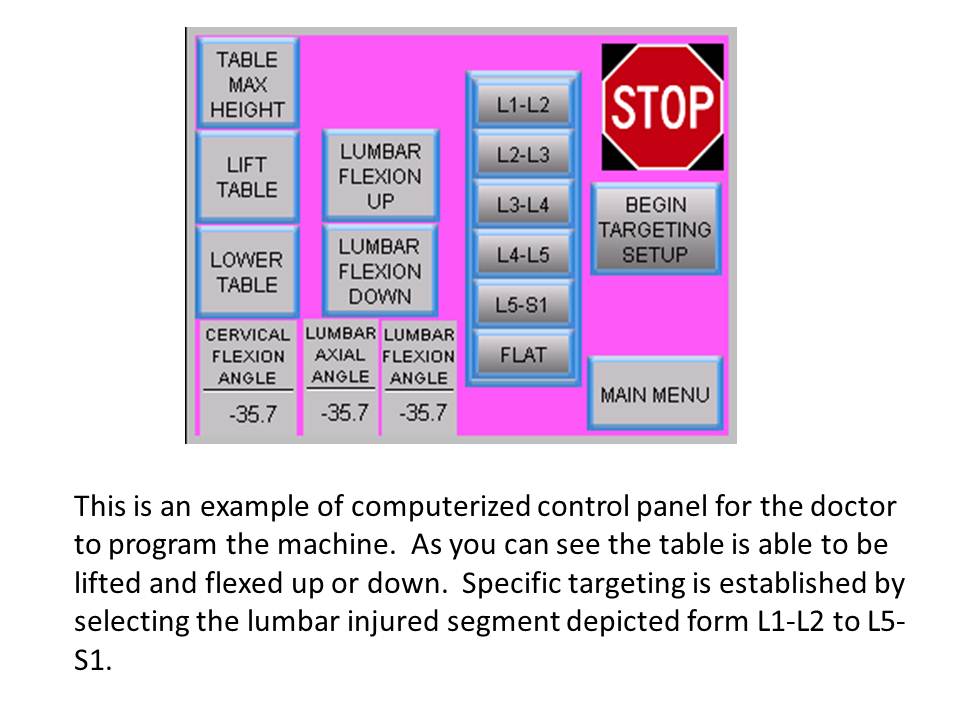 After the Spinal Decompression table is set to start by the doctor, the patient is suggested to relax and allow the machine to apply proper decompression.  Our Spinal Decompression sessions run anywhere between 15 to 30 min of decompression. There are safety measures put in place to insure the safety of the patient.  First and foremost there is a kill switch that is given to patient to completely stop the decompression at any time.  I should say that this switch has been used only couple of times at our clinic in the past four years.  As you can see in our Testimonial section our table is very comfortable.  If the machine does feels too much pull or too little it also stops automatically.  We also have a remote wireless bell system for the patient to call us if there is a problem.  Either the doctor or one of the staff frequently checks the comfort level of the patient during their spinal decompression session. Over the past four years working with many spinal decompression patients we have added muscled stimulation during our treatments for patients that experience muscle tension.  This has cause more comfortable treatment sessions.  Ice also known as cryotherapy can also be administered at the end of the treatment.  Proper transferring off the table is thought to the patients on their first visit.  Condition and comfort level of the decompression is asked from our patients on regular basis.  Simple exercises and back or neck safety education is thought to our patients from day one.  We usually recommend three weeks of treatment to see a difference at the beginning, but the complete seven week program including 21 sessions of treatments is highly recommended.
Please feel free to contact us should you have any questions.