Decompression Testimonials
"I had a severe pain in my lower back and down to my legs.  The pain was so bad and I could not stand straight and my left leg was slightly dragging when walking.  My family doctor sent me to Simply Align Rehab at 4129 Lawrence Ave east, Scarborough, to consult Dr.Nima Pardisnia. He saw my x rays and found that I have a slipped vertebrae in the spinal lumber L4, and it is pressing the spinal chord.  Dr. Nima told me that the pain is due to spinal stenosis and he suggested me some treatment for pain management by spinal decompression along with laser and pulse wave.  I was getting regular treatment more than a year from March 2015 to now.  My pain was reduced and a I could walk perfect.  The latest X ray report in march 2016 shows that my spinal vertebrae is perfectly and normally aligned and there is no damage.  This is a miracle in my life.  I thank Dr.NIMA PARDISNIA FOR HIS EXPERTISE TREATMENT AND THE FRIENDLY ENVOIRAMENT . I THANK GOD FINALY MY NIGHTMARE IS OVER. I STORNGNLY RECOMEND ANY ONE WHO HAVE A SMILAR MEDICAL CONDITION , PLEASE VISIT SIMPLY ALIGN REHAB."- Kandi Arun,  Scarborough, Ont
Actual X-rays of the above case: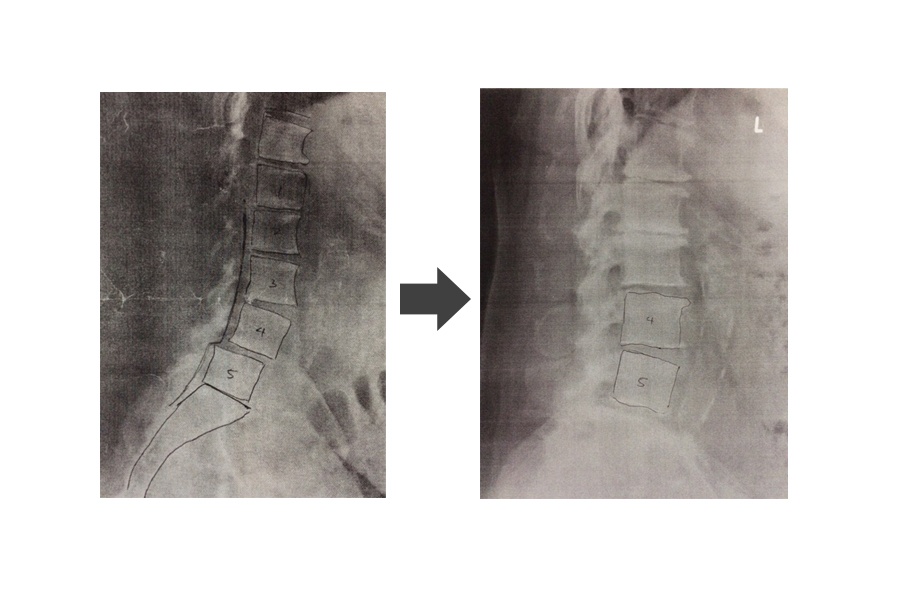 "I have been referring patients to Simply Align Rehab for neck and back pain.  All my patients have been very happy with their results."– Dr. S. Timol, MD, Toronto, Ont
"Prior to coming to see Dr. Pardisnia, I was diagnosed with a severe disc extrusion, which was causing compression on my sciatic nerve. The doctors said surgery would most likely consist of removal of the disc and the insertion of posts to stabilize my back. I was put on 3 medications and bed rest so as to avoid emergency surgery. I was suffering from severe back pain, sciatic nerve pain, lack of mobility, and numbness. After a few weeks, I began spinal decompression and laser treatment at Simply Align Rehab. A few weeks after that, once the pressure was beginning to be alleviated, Dr.Pardisnia began manual adjustments and adding stabilizing exercises, along with ultrasound. The results were so remarkable that when I went to see the surgeon, he was amazed at my mobility, given my MRI results. Surgery has been postponed indefinitely! I now have quality of life back and am off the medications.
The experience at Simply Align Rehab is always a positive one. Everyone is friendly, and the environment is relaxed. This combination makes a big difference, especially when one is dealing with pain and physical challenges.
Dr. Pardisnia is a skilled practitioner with an excellent bedside manner. It is refreshing to find someone who truly cares about the well-being of his patients and produces results.
I have deep gratitude for Dr. Nima Pardisnia and his team and highly recommend their services." – Trina Ghauri, Ph.D. 
"For the past two years I've been having difficulty with prolonged standing while performing surgeries due to spinal stenosis at my lower lumbars.  After only two weeks of spinal decompression treatments I can hardly feel the pain down both legs anymore.  I can not thank the staff at Simply Align Rehab enough for giving me such relief." – Dr. Lloyd Padmore, MD, OB/GYN, – Scarborough General Hospital
"All I have to say is unbelievable! For five years I suffered with back pain to the point where my left leg would actually go numb. After two short months of treatments not only has Dr. Nima relieved the pain but has allowed me to golf 3 days a week, carry my bag and walk the course without any pain. It is not only the Decompression that has been working great but also his attitude towards his patients- never before have I been phoned the next day to see how I was feeling. Unbelievable. Thank you very much, Dr. Nima, for everything!" – Lou Cavallo
"For four years I have been recommending many patients for various musculoskeletal problems to Simply Align Rehab.  The staff are very knowledgeable as well as passionate and I could not be any happier with their services." – Dr. Caroline Newman, MD – Toronto, ON
"Wow! Look at me! Can you believe this?' This is what I say to most people who know me really well – well enough to know how badly off I was before I started Decompression treatments with Dr. Nima. I was hunched over and had difficulty straightening up, used a walker to get around and most of the time my pain level would be 9-10 out of 10. I depended on Nerve block treatments to ease the severe pain and spent a lot of time in tears, hoping for a miracle. Today, I can walk with a cane, keep my posture straight up, manage to hold a pain level of 6-7 out of 10 and look forward to days ahead when I can improve on all of the above." – Cynthia Alexis
"As a family physician referring patients to a good comprehensive rehabilitation clinic is always a difficult task.  I now recommend Simply Align Rehab to many of my patients without any hesitation.  Their new spinal decompression therapy has helped many of my patients with complicated lower back and neck pain.  In one case a post spinal decompression MRI revealed reduction of herniation in the lumbar spine of one of my patients.  This is a significant objective improvement.  Thank you so much Simply Align Rehab." – Dr. Arash Arani, MD – Oakville, ON
"I can't thank Dr. Pardisnia enough for the things he has done for me. Having suffered lower back pain for several years and having been at a lost as to what to do, Dr. Pardisnia was able to relieve the pain and maintain it pain-free. The professionalism combined with a free spirit attitude towards all patients made the treatments an experience I'll never forget." – Phil L.
"I was in a great deal of pain in my back and leg, had difficulty walking and was taking many painkillers, muscle relaxants and anti-inflammatory medication. In only approximately 6 weeks I was pain free and I still cannot believe I was in such agony. The Spinal-decompression is the most enjoyable a relaxing treatment I have had and I still continue the treatment for continued results and a lovely relaxing appointment. I would like to thank Dr Nima for all his efforts, support and friendship." – Karen B.