Dr. Pardisnia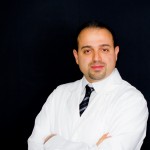 Dr. Pardisnia is one of the very few dual registrants in Ontario holding both a physiotherapy and a chiropractic rehab degree.  Being licenced in both professions allows his patients to benefit from a unique combined approach.  Also understanding that some patients may only benefit from physiotherapy or chiropractic , Dr. Pardisnia can apply different techniques for different individuals safely.
Dr. Pardisnia is a member of  College of Physiotherapists of Ontario. Also a graduate of University of Western Ontario in 1997 with Bachelor of Science degree, and a graduate of Palmer College of Chiropractic in 2000, with Doctor of Chiropractic degree.
He later continued his education in anatomical acupuncture offered by The Acupuncture Foundation of Canada Institute. He has also successfully completed a three year Fellowship of Canadian Chiropractic Rehabilitation program. He believes health care professionals should always stay students to the latest discoveries in their field.
While obtaining a masters degree in physiotherapy, Dr. Pardisnia's work in rehabilitation after a knee injury was published in the Journal of Canadian Chiropractic Association.  (Rehabilitation of tibial eminence fracture-2007).
Dr. Pardisnia has successfully completed KDT decompression technique courses and is certified KDT practitioner.
Dr. Pardisnia is a co-creator of Vitality Academy where he is an instructor in spinal decompression therapy and Theraband Exercises.
Activities and Recent Courses completed:
2011 – Dr. Craig Liebenson  "Functional Capacity Evaluation  &  Performance Enhancement"
2012 – ScoliOlogic Best Practice Course –  Categorizing scoliosis patients depending on x-rays and patterns and associated treatments.
2013 – FMS (Functional Movement Screen)
2014 – Theraband Train the Trainer, Lima Peru
2014 – The Extracorporeal Shock Wave Therapy in theory and practice
2014 – Bioflex Laser Therapy Certification
2014 – Selective Functional Movement Assessment
2015/2016 – Currently attending Traditional Chinese Medicine Diagnosis Courses